10% OFF ALL TREE SERVICES
Limited Time Offer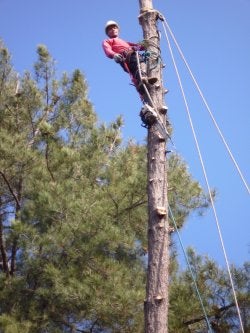 Mountain View Tree Removal Service
Our Landscaping & Tree Service is a "Cut Above the Rest"
Do you have a potentially hazardous tree that needs removal? Are the trees in your yard in need of trimming and shaping? At Mountain View Tree Service, we are dedicated to delivering quality, reliable service at affordable prices. We are a family-owned business proudly serving the Mountain View community and surrounding areas. Regardless of the size or scope of your project, our highly skilled team is ready to address any tree maintenance issues on residential or commercial properties:
Tree Crown Thinning
Tree Crown Reduction
Tree Height Reduction
Expert Root Pruning
Stump Removal / Stump Grinding
Emergency Tree Removal
At Our Tree Removal Company, Your Satisfaction is Our Top Priority
We take our work seriously. Delivering professional work that exceeds our customers' expectations is what we strive for every day. You can count on our efficient state-of-the-art equipment to properly, safely complete any tree service job. We take great care in finishing each project with a 100% cleanup. Meanwhile, you can rest assured our waste disposal is environmentally friendly.
Reliable Tree Services in Sunnyvale, Los Altos, Los Altos Hills, Palo Alto & Cupertino
We are street tree, large tree, and hazardous tree specialists, so whether you have an issue requiring immediate attention, have a large tree that needs to be removed, or have a tree in need of maintenance, our professional staff will deliver prompt, reliable service.
In addition to our quality tree removal and trimming services, you also have access to our wide range of landscaping services, which include the following:
Poison Oak Removal
Shaping & Pruning
Trimming & Thinning
Expert Root Pruning
Yard Clean Up
Free Wood Chips
For a variety of landscape projects, you can count on us to deliver exceptional customer service and quality work. No project is too large or too small for our diligent, hard-working crew. We also offer 24/7 emergency service for your peace of mind.
Contact us today at (650) 254-0446 or (408) 541-9035 for your free estimate!
WHY CHOOSE US?
A Cut Above the Rest
Efficient State of the Art Equipment
Environmentally Friendly Disposal
Emergency Service 24/7