10% OFF ALL TREE SERVICES
Limited Time Offer
Tree Stump Removal & Stump Grinding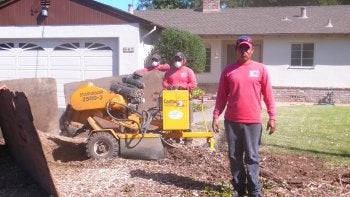 Although a tree stump will decompose with time, in some situations it is not only an eyesore, but a potential liability. There are other reasons for removing a tree stump, most commonly:
Decomposing tree stumps can also be a magnet for insects
Tree stumps can interfere with lawn or garden space
Tree stumps pose a potential property damage hazard
Stump Grinding: Effective Stump Removal
With specialized machinery, we use an improved method called stump grinding to remove tree stumps. This technique has many benefits over previous, more intrusive methods of stump removal:
Tree stumps are removed faster than with traditional methods
Smaller specialized equipment is used instead of larger machines that can tear up your lawn
Stump grinding machinery will grind the stump into wood chips, creating a level surface area, unlike digging machines which can leave a large hole after stump removal
Fast Stump Removal in Sunnyvale, Los Altos, Los Altos Hills, Palo Alto & Cupertino
If your outdoor space can benefit from removing a tree stump, our skilled crew at Mountain View Tree Service is ready to complete your project with our high quality work. We can also include stump removal into your estimate when requesting tree removal service. Contact us for your free estimate and to find out more about our stump removal service: (650) 254-0446 or (408) 541-9035.
WHY CHOOSE US?
A Cut Above the Rest
Efficient State of the Art Equipment
Environmentally Friendly Disposal
Emergency Service 24/7