10% OFF ALL TREE SERVICES
Limited Time Offer
Mountain View Residential Tree & Yard Services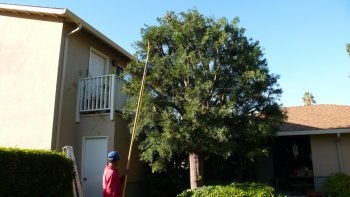 Proudly Serving Sunnyvale, Los Altos, Los Altos Hills, Palo Alto & Cupertino
For your residential tree and landscaping needs, you can count on our wide range of tree and landscape services for receiving the quality work you deserve. At Mountain View Tree Service, our focus on customer satisfaction along with our reasonable rates are what make us the first choice in tree and yard work services for many Mountain View and surrounding area residents, including Sunnyvale, Los Altos, Los Altos Hills, Palo Alto, and Cupertino.
Our Residential Services in Mountain View, CA
From tree trimming to prevent property damage, to the thorough removal of encroaching poison oak, our professional, highly skilled staff members are ready to take on any project to improve the aesthetics, tree health, and safety of your house and outdoor space. Safety is our top priority: for every project, we take every precaution and follow strict safety guidelines.
We specialize in the following tree & yard services:
Expert Root Pruning
Hazardous Tree Specialist
Large Tree Specialist
Street Tree Specialist
Stump Removal
Tree Crown Reduction
Tree Crown Thinning
Tree Height Reductions
Poison Oak Removal
Complete Yard Clean Up
Ornamental Pruning
If you're ready to experience fast, reliable service from a professional company that is dedicated to exceeding your expectations, call us today for a free estimate and to find out more about our high quality residential services: (650) 254-0446 or (408) 541-9035.
WHY CHOOSE US?
A Cut Above the Rest
Efficient State of the Art Equipment
Environmentally Friendly Disposal
Emergency Service 24/7