10% OFF ALL TREE SERVICES
Limited Time Offer
Commercial Tree & Yard Services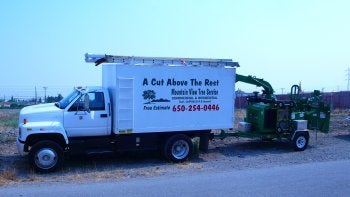 Quality Work for Businesses in Mountain View and Surrounding Areas
Routine tree maintenance can be a cost-effective way for diminishing the risk of property damage while improving the aesthetics of your trees. Commercial properties can benefit from our Mountain View Tree Service expert care to address a liability issue from any number of situations:
Weak or mechanically stressed tree limbs in close proximity to buildings can cause property damage, especially during strong winds
Tree roots that are beginning to push up sidewalk pavement can become a physical hazard and liability if not addressed in time
Proper tree root pruning can prevent roots from interfering with underground lines
We have a wide range of commercial tree and yard services to help keep your business running smoothly. We specialize in the following:
Expert Root Pruning
Hazardous Tree Specialist
Large Tree Specialist
Street Tree Specialist
Stump Removal
Tree Crown Reduction
Tree Crown Thinning
Tree Height Reductions
Poison Oak Removal
Complete Yard Clean Up
Ornamental Pruning
Our Tree Specialists Are at Your Service
If you're wondering how to manage an oversized tree on your commercial property or recognize that regular tree pruning can greatly improve the visual appearance of your business, the tree specialists at Mountain View Tree Service are ready to deliver the quality work and exceptional service your business deserves. We serve businesses in Mountain View and surrounding areas, including Sunnyvale, Los Altos, Los Altos Hills, Palo Alto, and Cupertino.
Call us today for a free estimate and we'll gladly answer all your questions on deciding the best course of action for maintaining your trees: (650) 254-0446 or (408) 541-9035.
WHY CHOOSE US?
A Cut Above the Rest
Efficient State of the Art Equipment
Environmentally Friendly Disposal
Emergency Service 24/7