10% OFF ALL TREE SERVICES
Limited Time Offer
Mountain View Tree Trimming Services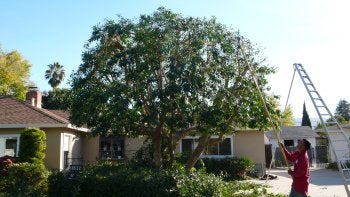 What are the benefits to tree trimming?
While tree trimming and pruning can help improve the aesthetics of your property, it can also ensure the tree's structural integrity, which in turn promotes the tree's health. Since the tree's health plays a major role in minimizing the potential hazards a tree can pose as it matures (especially a tree in close proximity to structures), regular trimming is a cost-effective way to safeguard your family's safety and that of your property.
Our extensive background and thorough safety procedures afford us the capacity to provide tree trimming services for any property, whether residential or commercial. In addition, we specialize in large trees and street trees, as well as certain types of trimming techniques to properly address your needs and promote the tree's longevity.
Our expertise in tree trimming and pruning includes:
Tree Crown Reduction: Commonly used to trim oversized trees whose branches are encroaching on undesirable space such as power line areas
Tree Crown Thinning: Used to decrease crown density, oftentimes to improve light penetration or to decrease mechanical stress on certain limbs
Tree Height Reductions: Special pruning cuts are used to reduce the height of the tree
The type of trimming or pruning will depend on the type of tree and your specific property concerns. Contact us for your free estimate and to find out more about our tree trimming services at (650) 254-0446 or (408) 541-9035. For your convenience, we proudly serve Mountain View, Sunnyvale, Los Altos, Los Altos Hills, Palo Alto, Cupertino, and surrounding areas.
WHY CHOOSE US?
A Cut Above the Rest
Efficient State of the Art Equipment
Environmentally Friendly Disposal
Emergency Service 24/7